Structured data management with sh404SEF
Adding structured data to your site is paramount in today's SEO world. Google and other search engines let you specify a number of information about you, your business or organization, and they may use this to build a knowledge graph item for you and your site, which can be displayed like this: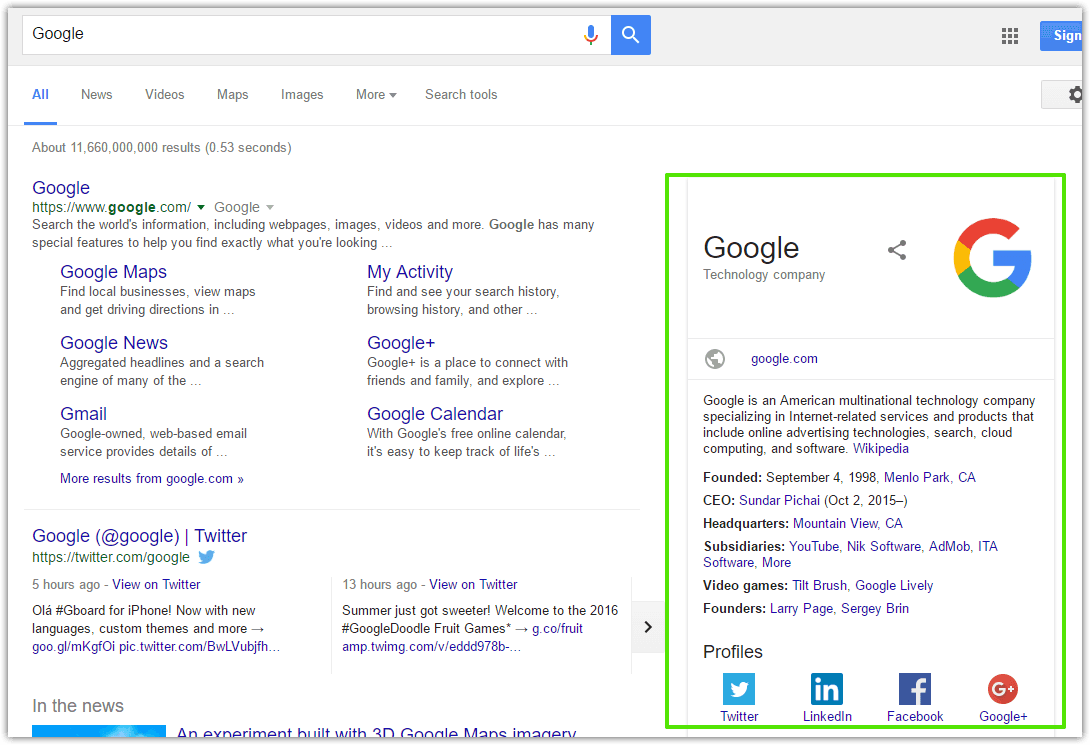 Having a knowledge graph item displayed for your site is extremely positive, as it will make you stand out in the search results and improve your click through rate or conversion rate - when specifying your sales phone number for instance.
As search engines strive to understand better and better what your pages are about, it matters more and more to provide them with the information they cannot always understand well by themselves. This is what Structured data is all about, and you can easily setup the most common ones with sh404SEF.
All settings are available under the Structured data tab of sh404SEF SEO configuration: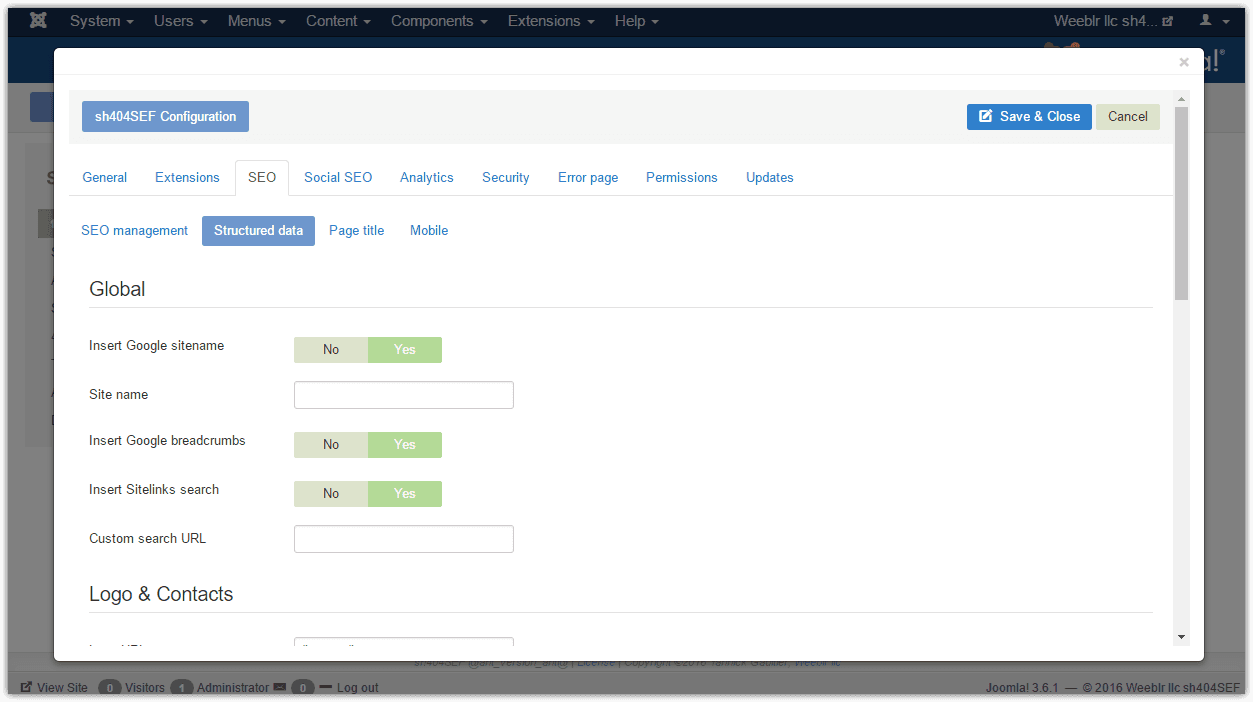 When you enable some Structured data on this configuration tab, sh404SEF will insert some specific json+ld code in your pages (invisible to visitors, only for search engines). You can see some samples below. Whenever you add some data there, you should use the Google Structured data tester tool. When you give it a URL on your site, it will load all Structured data available on that page, and display what it found, together with any error. Be sure to fix those errors, or you will loose all the benefit of addind Structure data.
Insert Google sitename
This feature will insert in a page, using the JSON-LD format, some meta data Google finds useful for identifying a web site in a more attractive manner. Here is how it looks:
Insert Google breadcrumbs
Enabling this feature will insert in all your pages required markup for Google to understand and display enhanced breadcrumbs on it search result pages. This markup is based on Joomla! generated breadcrumb, so it can only appear on pages where Joomla!, or the currently displayed extension has created a breadcrumb.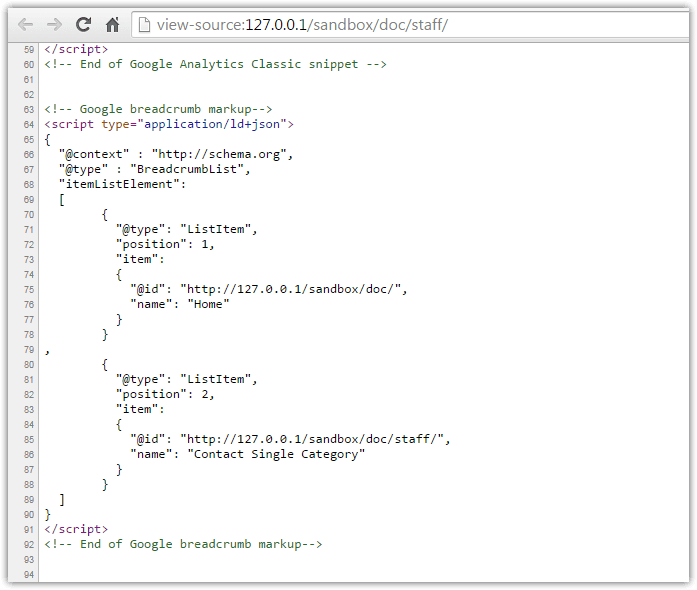 Insert Sitelinks search
This setting will insert in all pages the required JSON-LD markup to allow Google to display sitelinks search box.
This is switched off by default, as you may not have enabled search on your site. If you do, this may be a nice addition to stand out in search results.
---
Keep in mind that enabling this feature is not a guarantee to have a Sitelinks search box to be displayed below your site name in Google's results. It's a requirement, but then Google will be the one deciding for each search result if they display it or not.
---
Logo and Contacts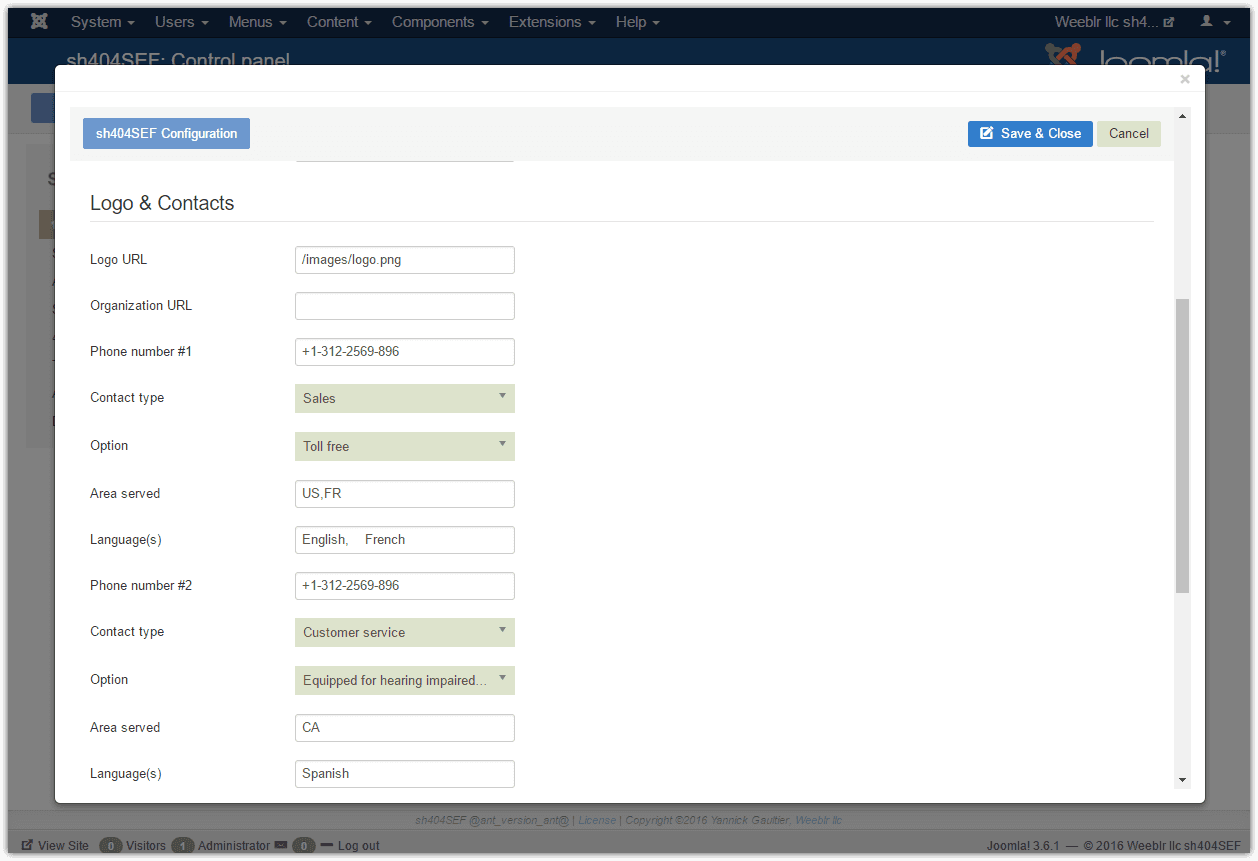 Logo
This section will let you enter information about the logo to use to represent your site/company. You must specify a URL to an image suited to be your logo. Please note it does not have to be the logo of your site itself, and it does not have to be located on your server. You can visit the Google documentation page for more details.
Contacts
This section might be very important if you have a physical store, for instance, or offer any kind of contact by telephone to your users or customers. Google lets you list some phone numbers, with detailed information such as:
which countries each number is for
what language is spoken
the main purpose of each number (customer service, sales, billing,...)
Toll Free or Hearing impaired supported
Those numbers can then be displayed directly in search results to your users or customers like so:
View more details on Google site, on this page.
Social profiles
In the same way as phone numbers mentioned above, you can indicate your social profiles, to be included in search results. This is done in this section: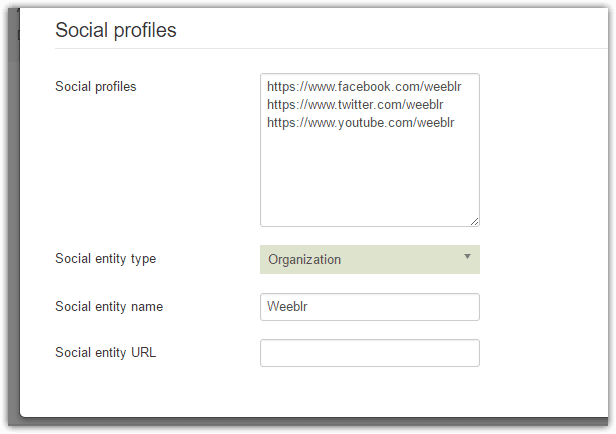 Note that the social media accounts listed here don't have to match the site name or content. They can be the social profile of your company, or your parent company for instance. By default sh404SEF will list the name of the site and its URL. If the social media profile you list are attached to another site/company, be sure to specify them in the input fields below the main input area, Social entity name and Social entity URL.
List one social profile per line in the main input box. Google only supports a limited set of social media (View the Google documentation on the topic on this page), but all the common ones are covered. Adding extra ones does not hurt either.
If you use our wbAMP Joomla! extension to create Accelerated Mobile Pages versions of your pages (you should!!), wbAMP will be able to collect all Structured data created by sh404SEF, and insert them as well in the AMP versions. Doing so is recommended by Google, which encourages AMP pages to have as much meta information include in them as possible.