Setting meta data per URL
After adjusting the global SEO settings to your liking, you can set page title, common meta data tags (and more) for each individual page on your site, regardless of the extension used to display it.
The page title or description provided by either Joomla! or the extension you use to build a page (e-commerce, directory,...) can be absolutely valid, especially if you create it manually in that extension, which is the recommended way for real SEO efficiency. So basically you can select to enter title and meta data in each extension (if they allow) or centralize them inside sh404SEF.

From version 4.17.0, sh404SEF will add a default value of max-snippet:-1, max-image-preview:large, max-video-preview:-1 for the robots meta tag on all pages, unless a custom value is set by you or another extension.
Entering/updating meta data
Entering page title and other meta data for a given URL is done from the URL manager. First, locate the URL you want to enter data for - URLs with existing meta data are identified with a tag icon in the Meta column: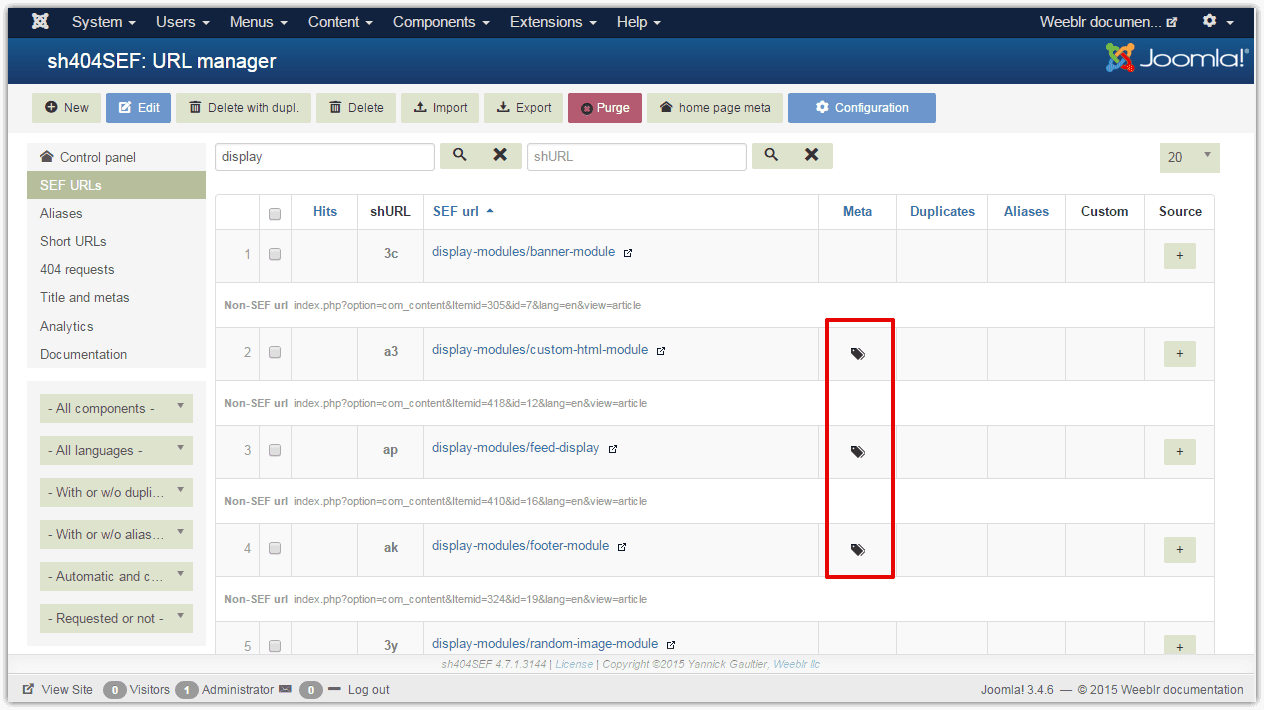 Click on the desired URL, and select the Title and meta tags tab: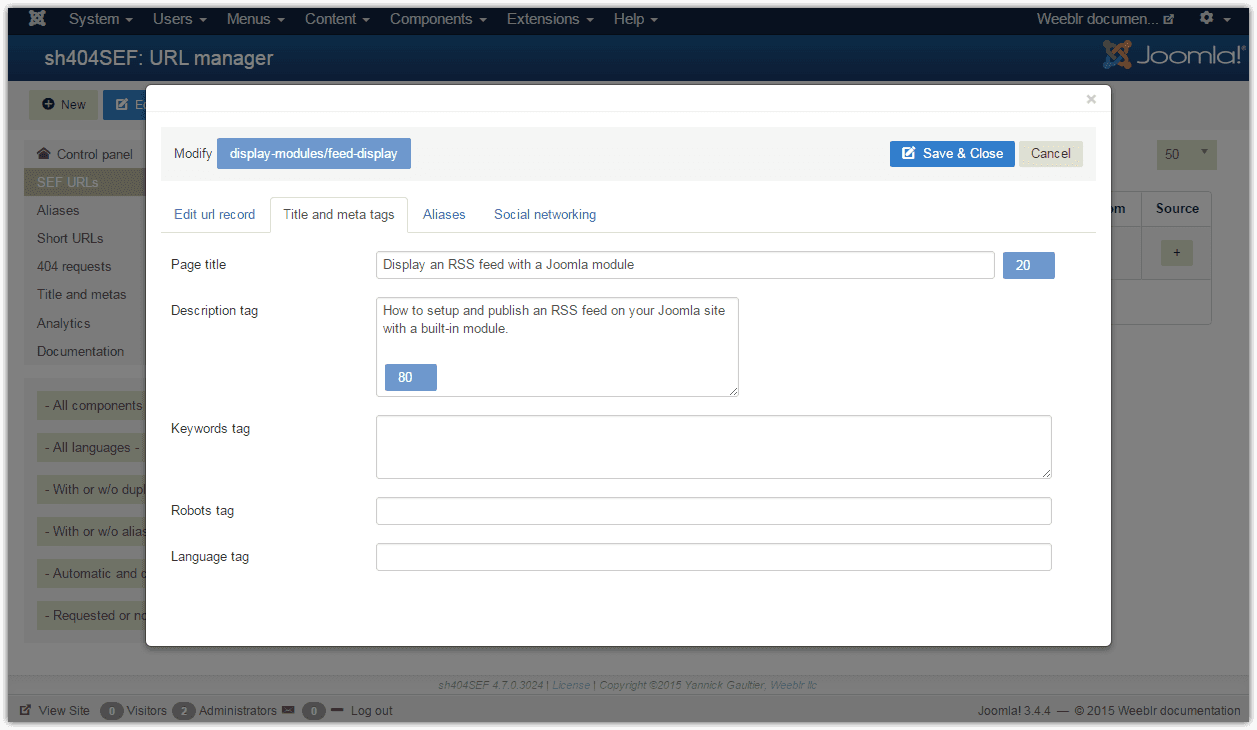 Page title: the title displayed in the browser window bar, technically the content of the <title> tag
Description tag: the content of the meta tag named "description"
keywords, robots, language: the content of the corresponding meta tags.
To create meta data for the home page, use the Home page meta button found in the toolbar of most sh404SEF pages.

Though there's still an input field for the keywords meta tag, this tag is not used for ranking and really has no use today, at least for SEO. It's still here in case you have a special use case, for instance a custom-built extension that uses it for some purpose.
Recommended length for title and description
Whether for page title or description, you want to be concise enough so that the text and keywords you enter are used by search engines. If your titles and descriptions are too long, they'll very often be truncated or simply discarded and replaced by other things. There are no published and official rules for that, but tests and experience have provided some guidelines that sh404SEF helps you enforce.
When entering a page title or a description, a small characters counter is displayed (see screenshot above). It'll count as you type, stay blue as long as you're within reasonable length, turns orange above a certain level and becomes red when you go over generally agreed length.
sh404SEF recommended length characters counters are displayed on sh404SEF input fiels for entering page title and description, but are also added to Joomla! own article and categories edit pages.
Here are the characters count limits we use at the time of writing:
| Range | Title | Description |
| --- | --- | --- |
| Good | 45 | 140 |
| Maximum | 60 | 160 |
How search engines will use this data
Search engines, Google in particular will not rely entirely on the page title and other meta data you insert into your pages. This data is a good base, but search engines will change it as soon as they think it fits better their searchers requests. Note also that SERP display is an ever changing thing, and what you see on Google results today may not be the same tomorrow.
To illustrate this point, let's simply look at Google US search results for a search of the sh404SEF keyword (June 2015):

On this simple request, Google took much liberty with the meta data we crafted:
on the JED record for sh404SEF, it entirely removed the meta description tag content and replaced it with what it thought was a better description - rightly so actually
on sh404SEF page on weeblr.com, it decided to append the name Weeblr to the actual page title
on weeblr.com home page, the page title we've written has been truncated, even though it's only 60 characters in length
The above is only here as a reminder that you should not expect Google to simply follow on what you write in the page title and meta data tags. Especially if you try to stuff keywords that you're page don't really relate to or try similar tricks to improve your rankings! The best bet is to describe your pages the more accurately you can.