Fully-featured podcasting for Joomla
4Podcast is a modern, integrated solution to add a podcast to your Joomla 3 and Joomla 4 website. It uses Joomla native custom fields for a seamless integration and ease of use.
It comes with a beautiful, responsive and accessible audio player that scores perfectly on Google Core Web Vitals speed specification and therefore helps your SEO.
Builds a standard RSS feed usable on Apple Podcasts, Google Podcasts, Spotify and all major podcasting platforms.
4Podcast works the same on Joomla 3 & Joomla 4.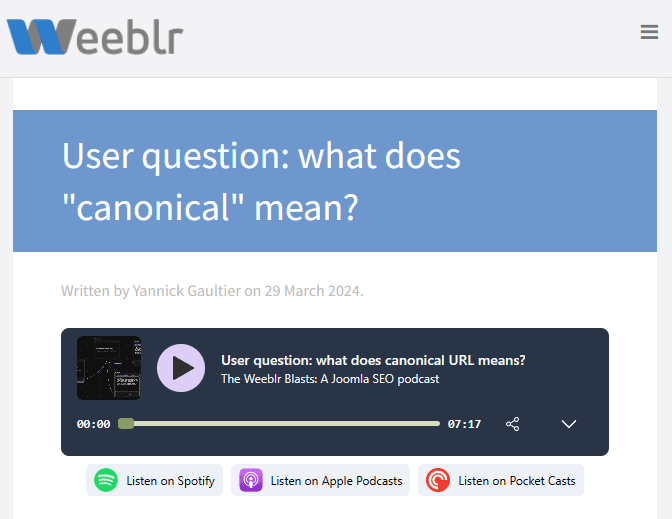 ---
You write a blog but few of your customers are actually reading it?
Your newsletter is perfectly crafted but readership is low? Well, people don't read anymore!
Right, but in fact they do listen to podcasts.
We were faced with the same issue here at weeblr.com, and found no solution to start our podcast that would integrate with Joomla natively and easily.
So we made 4Podcast exactly for this purpose: run your own podcast. On your own website so that you own your content, not Apple or Google.
Publish the way you already know, by adding a category and some articles to your site.
It literally only takes a few minutes to be ready to publish your first episodes. No worries about your template or styling: again, these are just regular articles, they'll use your website existing design.
But many listeners prefer using their own podcasting app and platform. 4Podcast automatically creates a standard RSS feed. Register with Apple, Google, Spotify, etc and your podcast will be everywhere.
What else? 4Podcast automatically creates PodcastEpisode structured data records so that Google can best present your podcasts in search results.
And the audio player comes in 7 different color themes!
All your episodes, on your website
You own your episodes, not these large platforms, and you already know how to publish a podcast and make it look good:
A podcast is a Joomla regular category. Show it as usual on the frontend with modules, tags, custom fields,...
Each episode is an article in that category
Your podcast automatically uses your website design, no integration work needed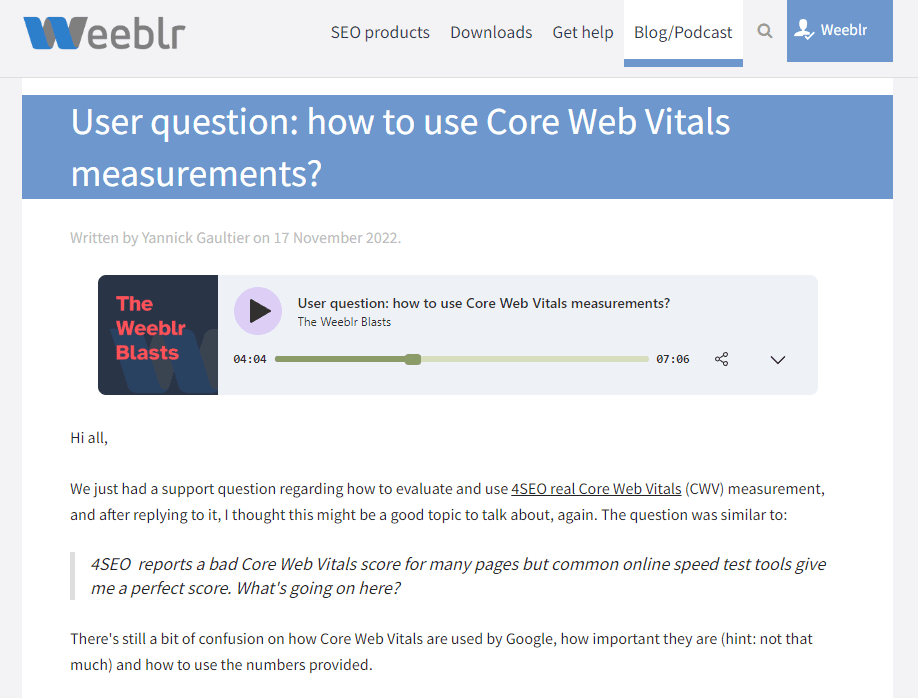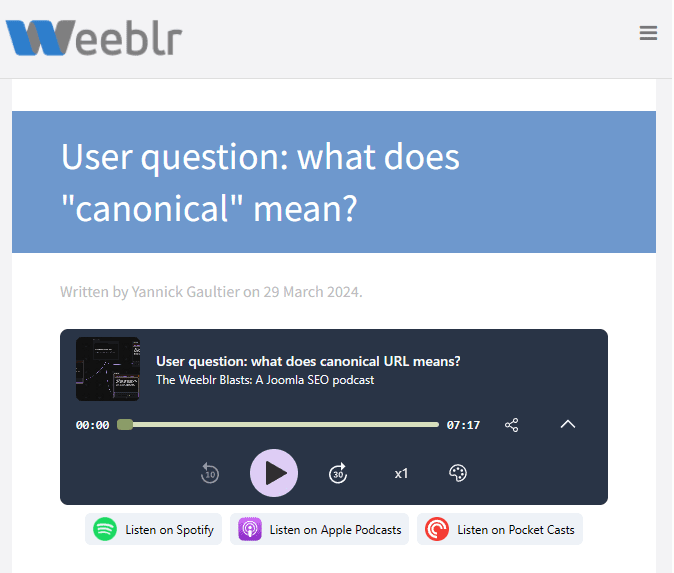 Best-in-class audio player
Fully responsive and accessible
Optimized to avoid Cumulative Layout Shift penalty in Google Core Web Vitals speed measurements
Multiple controls: volume, speed, back and forward buttons, multiple color themes
Social media sharing icons built-in
Analytics - without cookies
User preferences saved automatically
Publish to all major platforms
4Podcasts generates a standard podcast RSS feed, accepted by all major platforms.
Register an account with Apple, Google or Spotify and make your podcast available to the world with a few clicks. All the technical work is already done, only one link to copy/paste.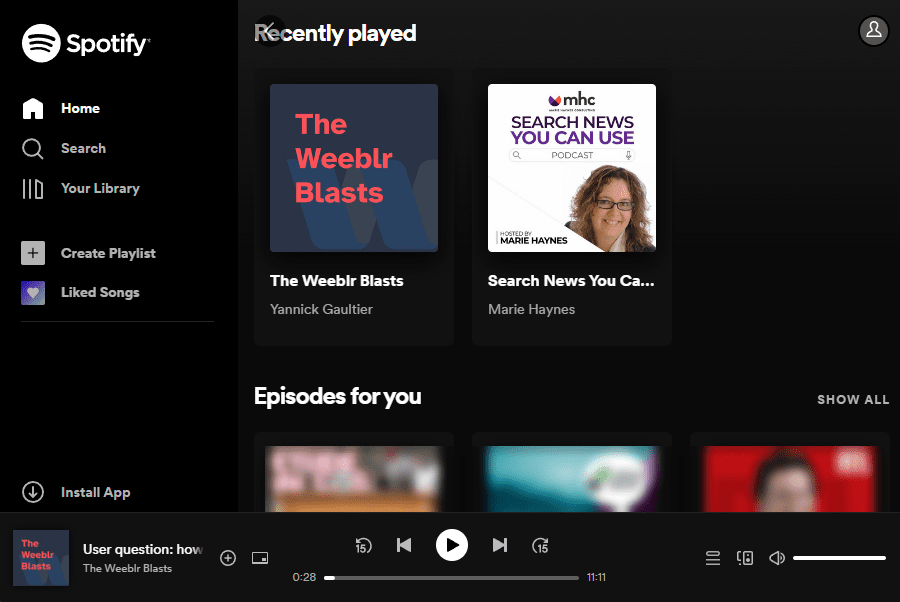 4Podcast is available in Dutch, English, French, Polish, Spanish and Turkish. It is very easy to use and fully documented.
---
Pick your preferred subscription and get started!
4Podcast
Fully-featured podcasting for Joomla
$49/year
Best for individuals
1 year support+updates up to 3 sites
Runs on Joomla 3 & 4
GPL license
Unlimited installations
Get 4Podcast now!
4Podcast PRO
Fully-featured podcasting for Joomla
$99/year
Best for agencies
1 year support+updates, unlimited sites
Runs on Joomla 3 & 4
GPL license
Unlimited installations
Get 4Podcast PRO now!
4Podcast: Start talking with the world!
---
Dive deeper with our Getting started video. A step-by-step guide to get your podcast on Joomla in a few minutes: