Simple and free Joomla log files manager
4Logs is a simple plugin that lets you manage all log files on your site.
You can view, download or delete all log files produced by Joomla or extensions you are using.
4Logs works the same on Joomla 3 & Joomla 4.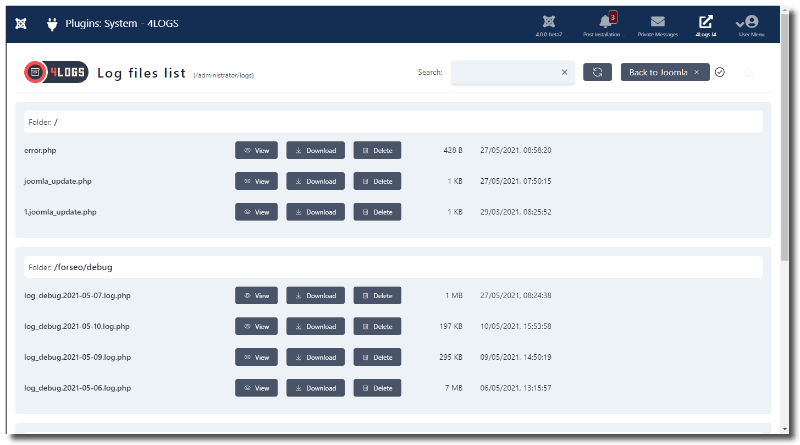 ---
Log files are stored by Joomla and many extensions as part of the day to day site operation. This is where you go to gather detailed information about errors and other issues that may happen on any site.
For instance, 4SEO or 4SEF both store information in Joomla log files folder, with more or less details depending on how you chose to configure them.
That's all good and well, but viewing the content of log files, or just downloading them when asked by a support team for instance, has always been a pain: connect through FTP, log into your hosting provider control panel, navigate to Joomla log folders, etc
4Logs is a simple plugin with only one purpose: manage Joomla log files
With 4Logs, it's a snap to:
View all available log files, sorted by folder, date and time
View their content with a single click
Download any log file to your computer
Delete any one of them
Improve your site operations by staying on top of errors and debugging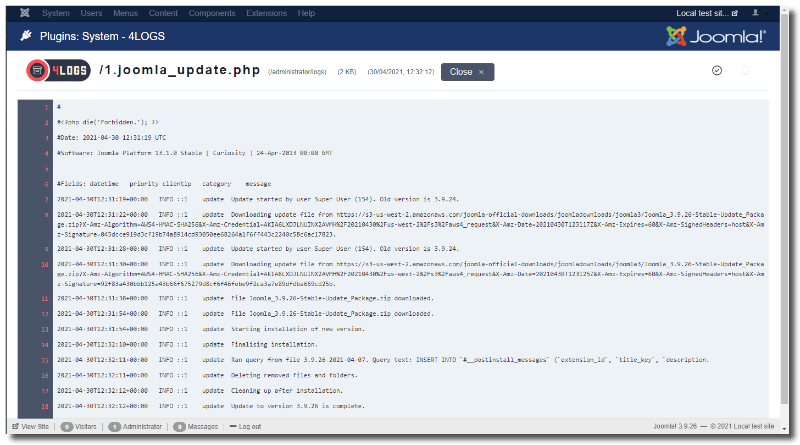 4Logs is a single plugin. It's entirely free and works happily on either Joomla 3 or Joomla 4.
It is not a component as that would clutter your admin for no good reason. We have made it only a plugin and use a modern and fast interface to make it easy to use.