Adding a contact-us page
Why a contact us page?
As with most AMP pages, it is important to provide an end-to-end AMP experience to visitors who first entered the site through an AMP page. It is therefore a good option to also have you Contact-us page be an AMP page itself.
That way you can link to it from your other AMP pages, or from your AMP menu, and most importantly, this will maintain a constant AMP experience for your visitors throughout
How to
wbAMP can amplify an existing Contact form created by Joomla, using the Joomla Contact component. You can enable this on the Select pages tab of wbAMP configuration: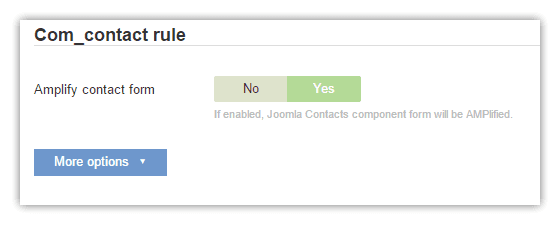 From that point on, any Contact form will be AMPlified automatically and will operate normally.
As you may have multiple such forms, you may not want to have all of them available: clicking on the More options button will let you select menu items, to either include or exclude some of your contact forms: