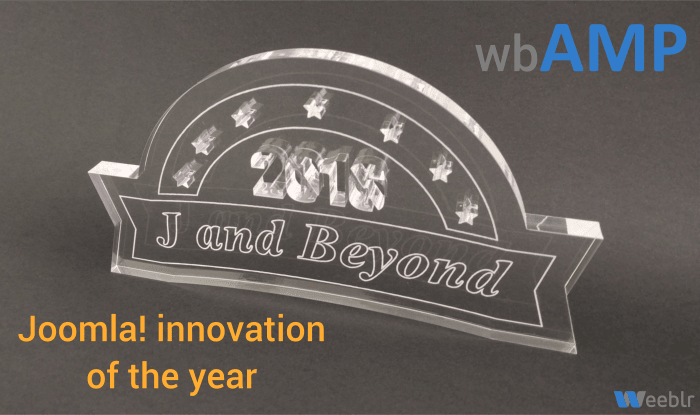 Hi all,
Once again we participated in this year JandBeyond edition, and what an edition it was! This time, the Joomla! crowd of more than 200 gathered in sunny Barcelona.
As usual, the event spans 3 days, with a fairly busy schedule of talks and keynotes, but it also leaves plenty of times for discussions and informal meetings - most of times with plenty of food an drinks availables! There are 4 synchronized tracks, meaning you can switch from one to another at any time. I'll get back to the programme in a minute, but this time, something happened that made this year very, very special:
wbAMP was selected as Joomla!
innovation of the year!
A regular fixture at JandBeyond is the J.O.S.C.A.R.S. event. Attendees pick the finest extensions, templates, sites or services of the year. This year recipients include such famous Joomla names as Akeeba Backup, AcyMailing, Gantry and individuals such as Brian Teeman, Radek Suski or Jean-Marie Simonet. But as they put it on the internet, you won't believe what happened next...