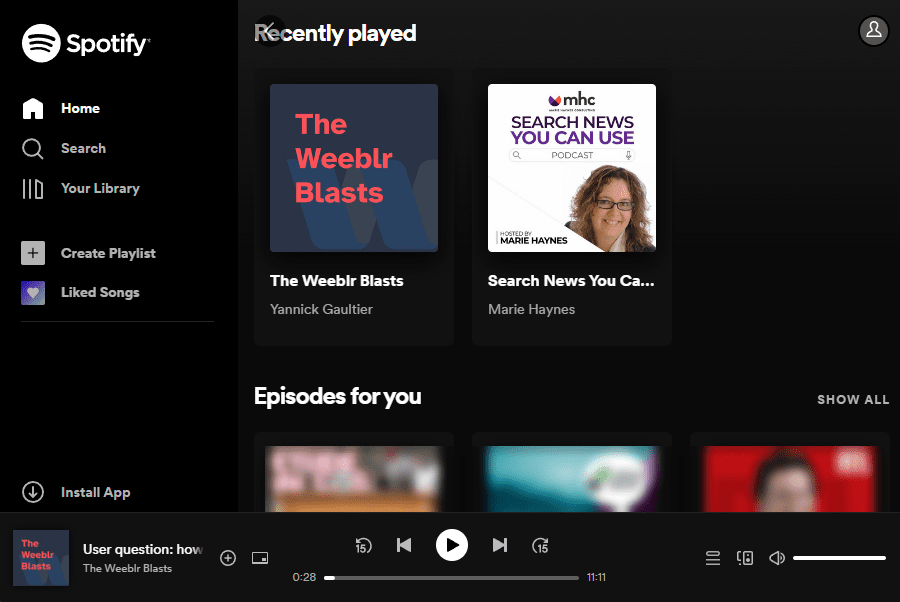 4SEF and 4Podcast released today
Hi all,
This is the day. After a long, much longer than I hoped, 4SEF beta testing period, we're officially releasing today 4SEF, our latest SEF URLs for Joomla 3 and 4 extension. 4SEF has been available as beta for several months and in fact is running in production already on many sites which have transitioned from sh404SEF to 4SEF. But due to how SEF URLs are such a basic building block of any website, it took some time to have enough real world testers for me to feel confident all the bases are covered and we can remove that "beta" tag.
But that's not all: a few months back, looking at the fact not that many people were fans of reading our blog, I decided to experiment in combining it with a podcast. It did not take long for me to be sold on the concept, and so we came up with 4Podcast, meaning today is an exceptional double-release day!
4Podcast lets you very simply run a fully featured podcast with only standard Joomla categories, articles and a dedicated custom field. It's released today at the same time as 4SEF and we'll have a launch discount period, please read on for all details.
4SEF stable is available
As previously announced and described in its documentation, 4SEF is a SEF URL extension for Joomla. It's main goal is to create SEF URLs that:
are fixed, predictable and independent from Joomla menu items
are compatible with sh404SEF-generated SEF URLs
can be manually customized to anything you like
Making SEF URLs independent from Joomla menu items is the key feature in 4SEF, one that was pioneered many years ago by sh404SEF. With that:
no need to create menu items for many articles to have simple and explicit SEF URLs
you can actually change your menu items to match your site navigration needs without SEF URLs changing
4SEF works the same on Joomla 3 and Joomla 4, and can import SEF URLs that were created by sh404SEF. This allows a safe upgrade path for all sh404SEF websites from Joomla 3 to Joomla 4.
There are some caveats, most notably websites running dedicated sh404SEF SEF URLs plugins, for 3rd-party extensions will have to have these updated to 4SEF new plugins format, but these instances should be rare and I hope for the most part, transitioning from sh404SEF URLs to 4SEF should be rather smooth.
As previously mentioned, we are grouping together sh404SEF and 4SEF into one single subscription, called 4SEF (+sh404SEF). This subscription lets you use either 4SEF and sh404SEF, on an unlimited number of sites as usual and for the same unchanged price (well, we do have a launch discount, please read on).
If you have an active sh404SEF subscription, then your subscription has just changed name and is now 4SEF (+sh404SEF). It lets you access both 4SEF and sh404SEF.
4Podcast, a fully featured podcast in your Joomla website
People don't read anymore! But they do listen to podcasts! Our focus here at Weeblr is SEO. Meaning we produce extensions to help you do SEO for Joomla websites. And SEO does include creating the best possible content.
Today, this means just not textual content but also audio and video. That's why we created 4Video to help deliver video to your visitors with a player that's both Core Web Vitals-compatible and generates structured data.
And now 4Podcast does the same for, well, podcasts. With 4Podcast:
it's super-easy to add a podcast to your website, including a pretty-but-efficient audio player, also Core Web Vitals-compatible

Episodes are created as standard Custom Fields. Your podcast is a regular category and episodes are just regular articles. Meaning your podcast will blend right in your existing template design, no need for styling, CSS and integration
you get an RSS feed compatible with all major podcasting platforms such as Apple, Google, Amazon, Spotify and a lot more
structured data are generated automatically for SEO, to let Google understand your podcast and reference it
Thanks to 4Podcasts, our subscribers can listen to our short blog posts, including this one, from their favorite podcasting app, while driving home or just joggging in the park.
OK, maybe our blog/podcast is not attractive enought for that just yet, but maybe yours will be?
4Podcast is a single subscription for an unlimited number of websites and comes with our usual, super-fast support. It is currently available in Dutch, English, French and partially in Spanish (that will be completed quickly).
Feel free to browse the 4Podcast documentation to get a feel on how it works, browse our blog and listen to a few episodes straight from this site, or search for weeblr in the Spotify, PocketCasts, Google or Apple podcast apps.
4SEF and 4Podcast launch discount
We're a small company, launching a new product does not happen often, and so launching 2 at the same time, well, that never happened.
So while I'm notoriously not a fan of discounts, we'll be running a launch discount period from today until January 1st included. During that time both 4Podcast and 4SEF (+sh404SEF) subscriptions will be available for $39.
Please note this is a good time to get a 4SEF (+sh404SEF) subscription. I have kept sh404SEF subscriptions the same price of $44 per year since 2015, there will likely be a small price increase in the new year.
Cheers,
Yannick