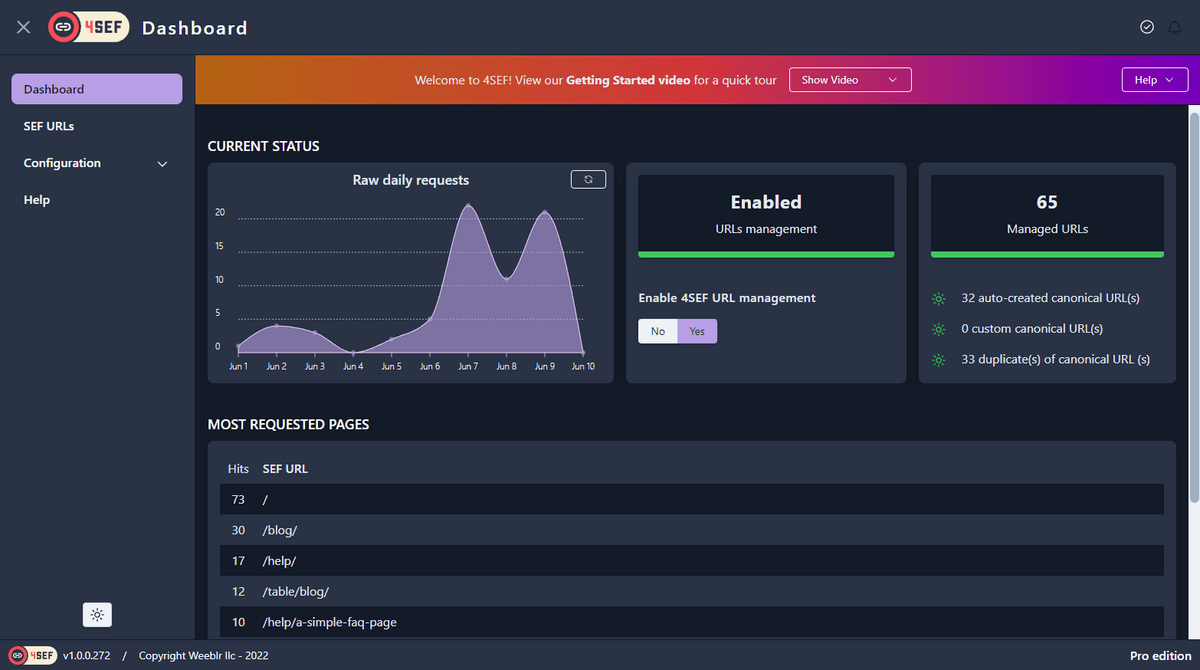 4SEF beta + sh404SEF import into 4SEO available
Hi all,
Since 4SEF private beta announcement, a group of dedicated sh404SEF users have been testing and reporting issues on 4SEF. We've been hard at work fixing these issues, and adding features or changing things and I now feel it's stable enough for everyone to look and test for themselves. As such, 4SEF is now in public beta phase, meaning all sh404SEF subscribers can download, install and test it.
During that same time, we have also completed development of the sh404SEF data import feature in 4SEO, also available as beta since a few days ago, and so the path from sh404SEF is now ready to be tested and completed.
Still in beta testing?
Yes, 4SEF has been used by a number of advanced sh404SEF users but it needs to be exposed to a more varied set of websites. Likewise, sh404SEF data import into 4SEO has only just been completed, and while much simpler, it's safer to have a beta testing phase.
Please note that:
4SEF is and will be available to all active sh404SEF subscribers to test on their site - or rather a copy of their site!
4SEO import from sh404SEF is available from 4SEO version 2.0. 4SEO itself is not a beta version, only the sh404SEF import feature is.
4SEF version 1.0 beta
4SEF 1.0 beta is meant for testing. After the initial release, limited to a small number of people, it's already working pretty well, and can be used on real website today, just with a bit of caution. It's also been tested mostly with native Joomla content and common 3rd-party extensions.
If you use less common 3rd-party components, they likely have not been tested yet with 4SEF.
Once this phase of public beta testing is complete, 4SEF will be released to all sh404SEF / 4SEF subscribers.
It's worth mentioning again that there will be only subscription for both sh404SEF and 4SEF. If you have an active sh404SEF /4SEF subscription, you can use either extension at will on your site.
4SEO data import from sh404SEF
With 4SEF, you can automatically build great SEF URLs, that are not dependent on Joomla menu items. All articles have the same address, regardless of whether they are linked from a menu, once or multiple times.
But sh404SEF also had some SEO-related features such as:
managing metadata: page title, meta description, etc
creating redirects or canonical links
4SEF is purely a SEF URL extension, and these SEO features are now handled by 4SEO. If you have a lot of custom metadata and redirects created in sh404SEF, 4SEO can now import these directly from sh404SEF.
Metadata are assigned to the same URL they were used with previously. After import, you can find and edit them as you would normally with 4SEO.
Redirects are converted to redirect rules, which you can then modify in 4SEO normally.
How to test?
Download 4SEF or/and 4SEO depending on your needs from the Downloads page
Make a copy of your site to test without risking interfering with your site normal operation
sh404SEF must be installed for the import to work properly.
Install 4SEF or/and 4SEO and perform the import procedures. sh404SEF import to 4SEF doc is here, while 4SEO import doc is here.
You should start by importing URLs from sh404SEF into 4SEF
Then import metadata and redirects, if you have any, from sh404SEF into 4SEO
Report any issue, or ask any question on the dedicated 4SEF helpdesk area or the 4SEO helpdesk area
What's next?
Hopefully this final beta testing period should not be too long and a stable release of 4SEF should be quick.
Thanks for joining in this beta test period, and if you cannot participate right now, let's be in touch in a few weeks with the official stable release!
Cheers,
Yannick