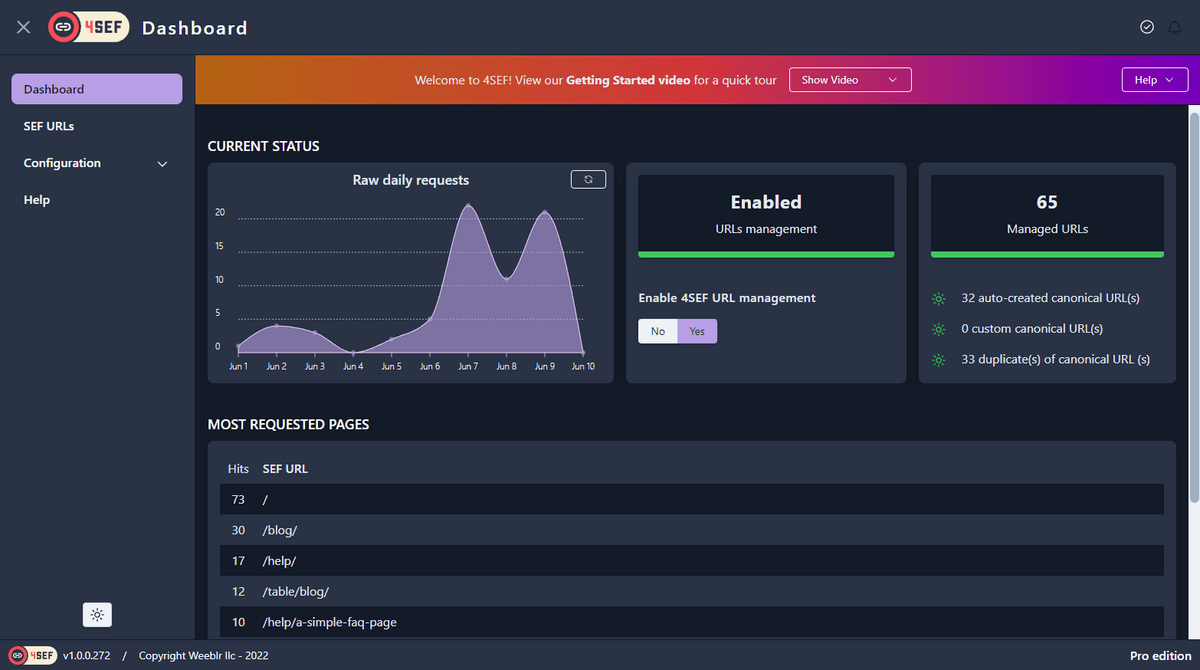 4SEF enters private beta testing period
Hi all,
This is a post many of you have been waiting for a while, I do hope it will be worth the wait! 4SEF is entering a private beta testing phase today, and this post will outline what it means in practice.
What is 4SEF?
4SEF is a Joomla 3 and Joomla 4 extension that offers SEF URLs creation and customization. If that sounds familiar, it's likely because this is what sh404SEF has been doing for about 15 years now and if you read this, there's a chance you've used sh404SEF at some point in your Joomla adventures!
sh404SEF however is not really capable of making the jump to Joomla 4, and it is also limited now in terms of pure SEO features.
Last year, 4SEO was released to take over all of sh404SEF SEO features and add many more. Now 4SEF is - nearly - ready to take over creating and managing SEF URLs for either Joomla 3 and Joomla 4 websites.
It's not a stripped-down version of sh404SEF, re-packaged for Joomla 4. 4SEF is using the same modern user interface that powers 4SEO, and all its code has been rewritten from scratch for better performance and some improved features, while retaining the same SEF URLs that sh404SEF produces.
Where are we now?
4SEF is not ready for primetime just yet. Today we are opening a private beta testing phase. This means I'm asking for a (small) group of testers to contact us so that they can start working with, testing and reporting back issues they find with 4SEF.
We've been testing 4SEF internally for a few months now, but external input is needed. Once this phase is complete, then 4SEF will be released publicly.
How does that work?
We want this beta testing period to be fast and efficient for the benefit of all, so here are the organizational details:
Who?
you are an experienced Joomla 3, Joomla 4 and sh404SEF user
you have an active sh404SEF subscription
you have one or more websites where sh404SEF is running (although testing on brand new websites is also welcome)
you can make a copy of these sites and test 4SEF on the copy (or you can manage issues if testing on a live site)
How?
To participate, contact us by email (email in footer of this site pages), mentioning your username on this site (again, make sure your sh404SEF subscription is active, you'll need the latest sh404SEF version to test against)
We'll add an 4SEF subscription to your account: you'll be able to download 4SEF from the download area and test for as much as you like. The Joomla one-click updates are also available for easy updates.
Report any issue, or ask any question on the dedicated 4SEF helpdesk area (visible only to beta testers)
What is 4SEF like anyway?
To get you a preview of what 4SEF is like, I am embedding here the Getting started video we've put together for our testers. Feel free to also browse through 4SEF documentation, which is ready and public.
That's all for now. Building 4SEO and 4SEF, making use of the most modern technologies has been quite the challenge over the last 2 years, on top of all that happened around us during that time. But certainly an exciting one and I'm so glad we're nearing completion of our full range of SEO products for Joomla 3 & 4. With that base in place, developing new products and adding new features is much easier it ever was and I do intend to take advantage of that in the immediate future!
Thanks for joining in this beta test period, and if you cannot participate right now, let's be in touch in a few weeks with the official stable release!
Cheers,
Yannick