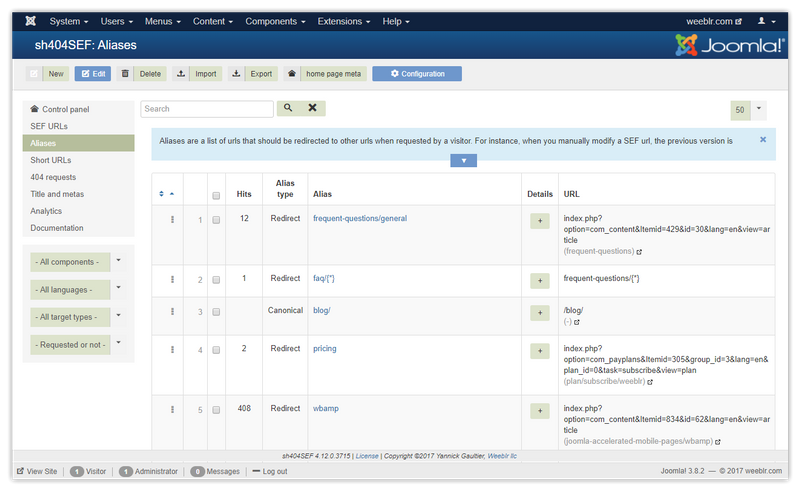 Hi all,
We are releasing sh404SEF version 4.12 today, and I am very happy to announce that it includes vast improvements of 2 sh404SEF major features: the aliases manager and the short URLs (shURL) manager. Alias is the term we use in sh404SEF to talk about redirects. Why not call them redirects? well, it's mostly historical, but today, that old name choice is proving very useful as aliases can be more than just redirects. So what can you do now with sh404SEF that you could not before?
Redirect a group of URLs in one go
Either redirect or insert a canonical tag instead
And what about short URLs?
You can now shorten any URL and not just URLs on your own site
sh404SEF has always had a strong redirect management, but redirecting a group of URLs was an often requested feature. It is especially useful to all of us who are a bit reluctant to jump into .htaccess files and have a hard time mastering those complicated redirects commands. It takes a long time to get them right, and they have a tendency to break your site while your work on them. Editing your .htaccess files is no longer needed for most of the common use cases. For instance, renaming a category or changing URL structure to simplify it can now be handled in a click.
And this was also an opportunity to allow for a very, very easy setup of canonical links: previously, canonical links had to be entered on a URL by URL basis. Now you can use the same simple rules to canonicalize groups of URLs. When is this useful? typically when products or articles can exist in multiple categories for example.
Here is a bit more detail and some screenshots: