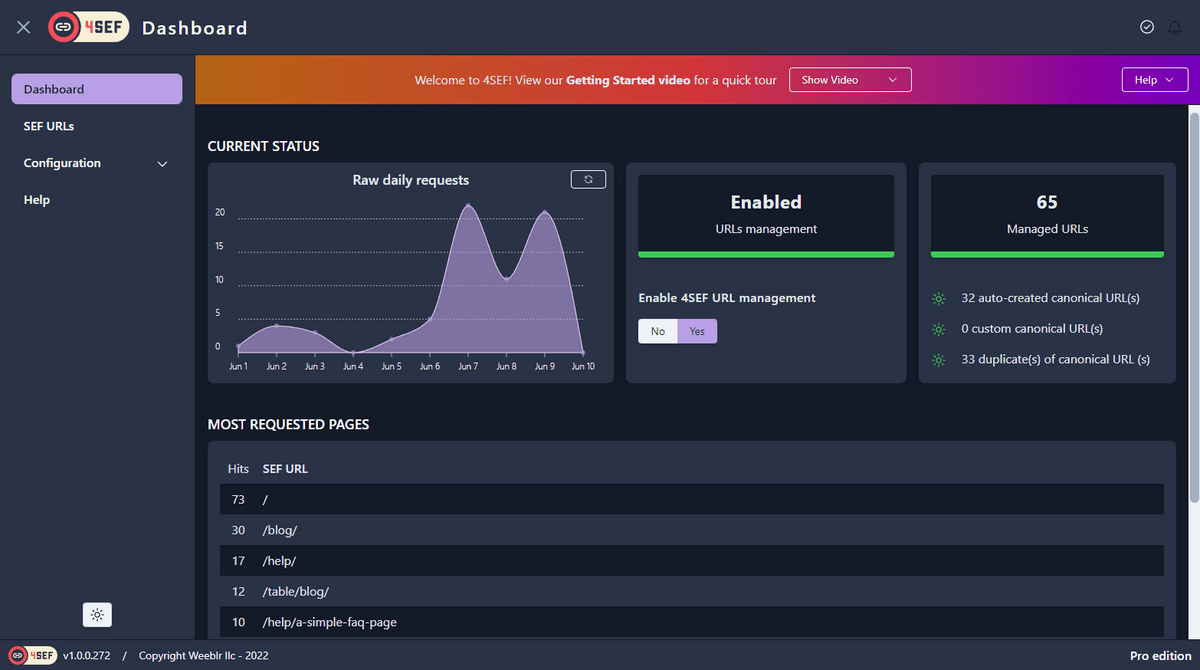 Using JoomSEF or MijoSEF on Joomla 3? how to update to Joomla 4 today
Hi all,
Today I want to talk about a really pressing issue for many of you: if you have a Joomla 3 website using either the JoomSEF (from Artio) or MijoSEF SEF URLs extensions, you have've been waiting a couple of years already now for these developers to provide a Joomla 4 equivalent. And you're still waiting.
JoomSEF and MijoSEF were extensions that competed with sh404SEF for a long time. But while I very early on developed a Joomla 4 transition plan for sh404SEF, a plan that included creating 4SEO and 4SEF, there's no such thing in sight for JoomSEF and MijoSEF users. So how can you still move to Joomla 4 without these extensions being available? let's talk about that:
Why is replacing JoomSEF and MijoSEF such a big deal?
This is the same as asking: why are SEF URLs important. If you do not replace JoomSEF or MijoSEF properly when moving to Joomla 4, you will lose all your rankings in Google, at least for several weeks or even months.
SEF stands for "Search Engine Friendly," and it's a way of formatting your website's URLs so that they are easy to understand.
But contrary to popular belief, your URLs basically do not matter at all for SEO and search engines. It's best to avoid overly complicated and unreadable URLs, but that's not really important. However, there are couple of things that do matter with SEF URLS:
the same piece of content should always have the same URL
once a piece of content has a URL, and search engines know about that URL, that URL should never change
Changing any URL on your site has the immediate consequence that Google and others immediately forget everything they know about that page: you immediately lose all your rankings and authority signals associated with that URL.
In addition, your visitors will also be faced with 404 errors when they visit the old address.
Best practice such as creating a redirect from the old URL to the new URL can improve things but will never avoid a sharp drop in rankings. It's also something that quite hard to do for an entire website. In any case, it may take weeks, and even months to recover, if that ever happens.
Can't I just switch to Joomla-only and drop JoomSEF or MijoSEF entirely?
On some simple sites, you may be able to reconfigure your menu structure to make Joomla produce the same URLs as JoomSEF/MijoSEF did. It's likely not the easiest way but when possible, it should certainly be explored.
However this will not cover a more typical use case of these extensions, which include having:
some manually customized SEF URLs
custom page title and meta description written for many pages
multiple redirects
If you've used any of these features, then unless your site has only a few pages, you cannot fallback to "just Joomla".
How to upgrade to Joomla 4 when using JoomSEF or MijoSEF
In short, you cannot. BUT.. there's a way, and that way goes through sh404SEF.
The first step is to use the sh404SEF importer. This is a free Joomla extension that allows you to import your SEF URLs from JoomSEF or MijoSEF into sh404SEF.
While sh404SEF itself is not compatible with Joomla 4, it serves as a bridge to the next step.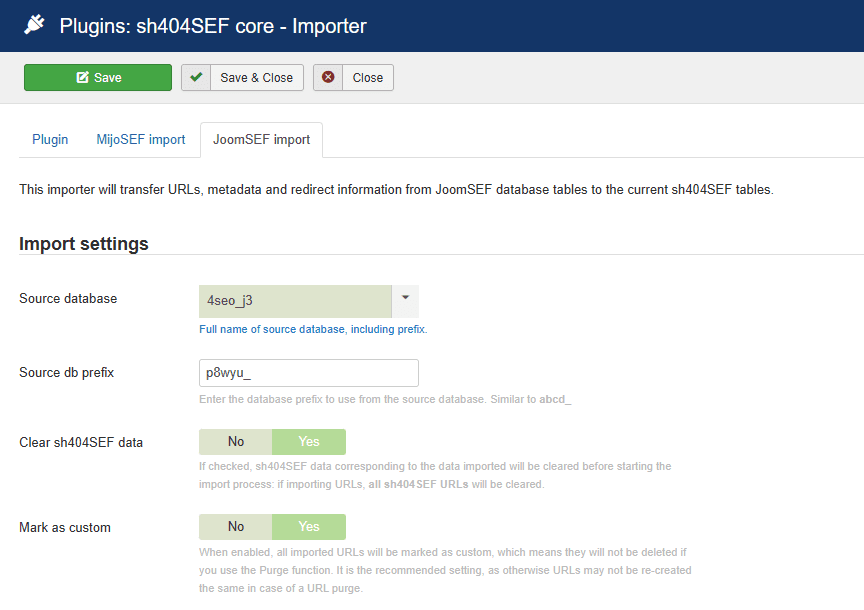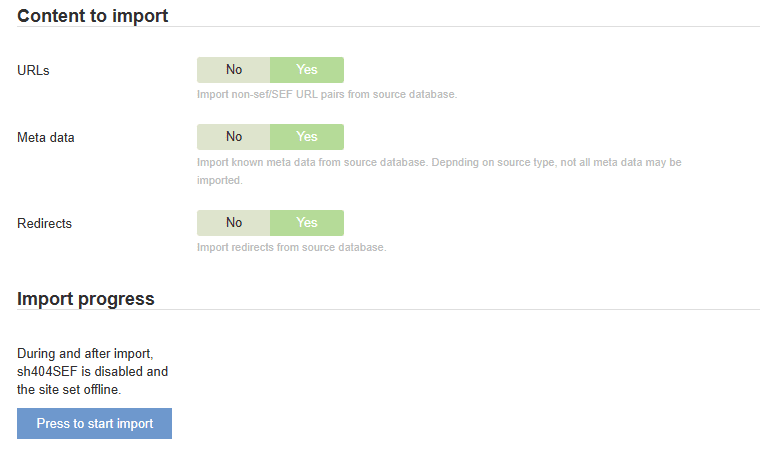 Once you've imported your URLs into sh404SEF, you can then switch from sh404SEF to 4SEF and 4SEO, which are indeed compatible with both Joomla 3 and Joomla 4.
4SEF is a powerful SEF URLs extension, totally dedicated to creating and managing SEF URLs on Joomla 3 and Joomla 4 sites.
4SEO is the all-in-one Joomla SEO extension that helps you improve your qualified website traffic with structured data generation, sitemap generation, metadata management, a content replacer and a Google Search Console connector to track keywords results and identify pages to optimize.
Together, 4SEO and 4SEF, with help from sh404SEF, can ensure a safe transition from JoomSEF or MijoSEF on Joomla 3 to Joomla 4 while keeping your SEF URLs, metadata and redirects intact.
If you're using JoomSEF or MijoSEF on your Joomla 3 site and are worried about losing your SEF URLs when upgrading to Joomla 4, don't be. By using the sh404SEF importer and moving to 4SEF and 4SEO, you can upgrade your site while keeping your SEF URLs intact and gaining access to advanced SEF features and SEO optimization.
Thanks for listening, I hope this was helpful!
Cheers,
Yannick