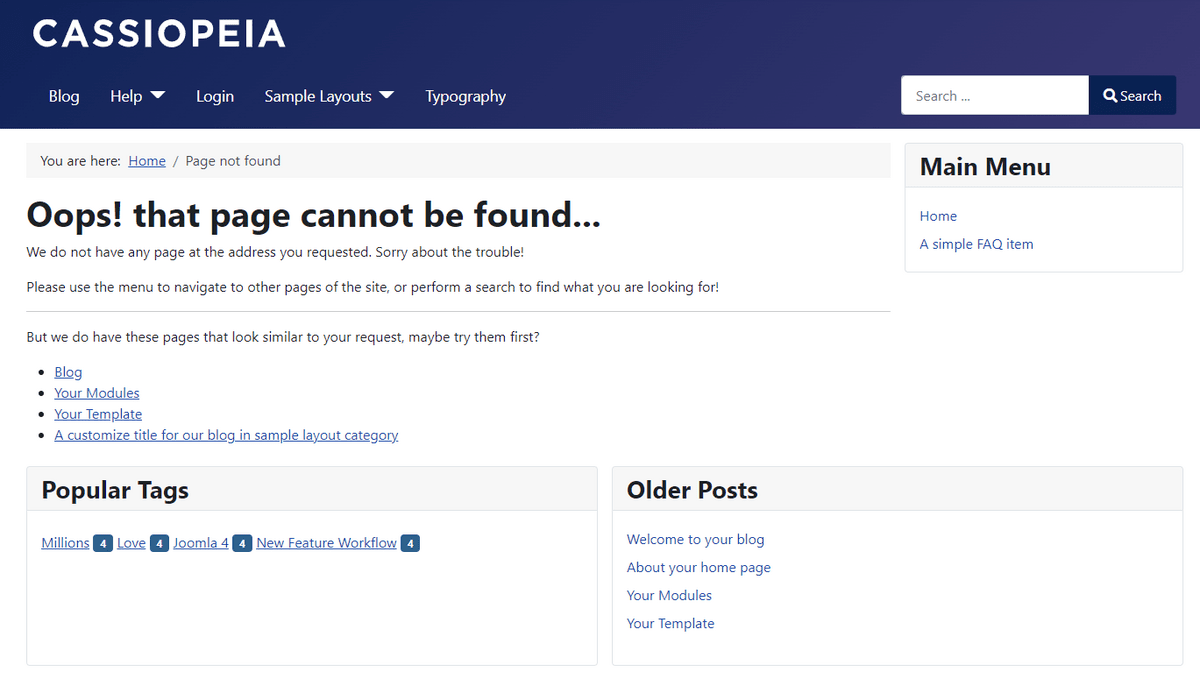 Custom error pages, J2Store and Virtuemart in 4SEO version 1.5.0
Hi All
4SEO version 1.5 is out and as is becoming customary, I made a video showing you 1.5 features in action. If you prefer text, I have also included the full transcript below.
4SEO version 1.5 in 5 minutes video
Full transcript of 4SEO version 1.5 video
Hi there, Yannick speaking. 4SEO version 1.5 is out with a lot of new features and even more improvements and bug fixes. It'd be tedious to go through all that, so I am only going to review a handful of major new or improved things.
First, we added two new full translations, Italian and Polish, thanks to Guido and Marcin, so 4SEO is now fully translated to 7 languages. Many thanks to all the people would participated in this effort and if you want to help getting 4SEO in your language, contact us through the website.
Let's move on to e-commerce: J2Store and Virtuemart now have optimized support. 4SEO finds canonical URL, decides on sitemap inclusion and performs image detection.

Image detection is important, it means instead of just finding images in the content, which are often thumbnails, small images, it will find and use the full size images which is what you want to best represent your products in search results. Ok, I didn't have a brown shoe picture so I just used one of Joomla's sample images, but I hope you get the point!

Next up, errors! 4SEO now has custom error pages management. This is a very popular feature in sh404SEF, our other SEO extension but 4SEO makes it both more powerful and easier to set up.

There's a new menu item under Errors called Error pages and that's where you set up the rules for error management. There are 2 default rules installed with this new version. The first one is for pages not found, 404s, and the second is displayed for all other error types.

But you can have as many error pages as you need, as they are based on rules, like most things in 4SEO. For instance, you can have a separate 404 error page for your blog and for your shop. Just by changing the start of the URLs.

Then on the What to do tab, you decide what will happen in case of an error and you can customize all the various texts displayed.

But the most important thing here is that your error message will be displayed inside your regular template instead of an empty page as is standard with Joomla or even with commercial templates.

The second important thing is that if you enable it, 4SEO will suggest similar pages to your visitors facing a 404. That's the best way I know to keep them on your site, and that's exactly what the custom error page support is for.

Here's what it looks like on the front end: let's click on a link and now I'll change a bit this address, for instance add a .html suffix. Here is the page displayed and here are the suggestions. Spot on in this case. of course, sometimes we won't find similar pages or the selection won't be as good but it does work very, very efficiently.

Now a visual but still very useful feature: we've added a stylesheet to 4SEO sitemaps. Sitemaps are made for search engines, so in theory you don't really care whether they look good or not, but in fact you often want to check their content and the raw code in a regular sitemap is a bit hard to read. So here is how sitemaps now look in 4SEO, let's copy the address of the sitemap here, open a tab and paste the address.
Pretty clear what we have and we can click to get to the detailed sitemap like so. And now not only can you see the pages listed in a very clear manner but you can also see the images on each page and make sure your sitemap is exactly as it should.
Finally, I'd like to mention also that a lot of work has gone in recent weeks into improving and optimizing the analysis and the sitemap update process. We've gained a lot of efficiency, found a few bugs and generally improved many smaller things, so please do check out the changelog, either in your 4SEO dashboard or on the documentation site.
That's all, I hope this was useful, thanks for watching!
Now what?
Still many things on the roadmap but the next few weeks are going to be focused on getting 4SEF out of the door to facilitate sh404SEF users to Joomla 4 transition.
As usual, you should check out the complete 4SEO changelog for details of what we added, changed or fixed in version 1.5.0 and of course, to learn what's ahead, have a look at a the roadmap: there's plenty to come!
Cheers,
Yannick