New powerful redirects manager in sh404SEF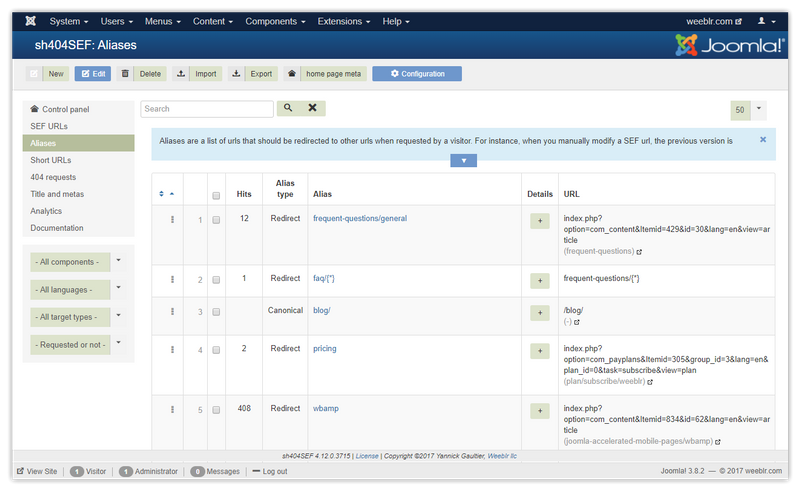 Hi all,
We are releasing sh404SEF version 4.12 today, and I am very happy to announce that it includes vast improvements of 2 sh404SEF major features: the aliases manager and the short URLs (shURL) manager. Alias is the term we use in sh404SEF to talk about redirects. Why not call them redirects? well, it's mostly historical, but today, that old name choice is proving very useful as aliases can be more than just redirects. So what can you do now with sh404SEF that you could not before?
Redirect a group of URLs in one go
Either redirect or insert a canonical tag instead
And what about short URLs?
You can now shorten any URL and not just URLs on your own site
sh404SEF has always had a strong redirect management, but redirecting a group of URLs was an often requested feature. It is especially useful to all of us who are a bit reluctant to jump into .htaccess files and have a hard time mastering those complicated redirects commands. It takes a long time to get them right, and they have a tendency to break your site while your work on them. Editing your .htaccess files is no longer needed for most of the common use cases. For instance, renaming a category or changing URL structure to simplify it can now be handled in a click.
And this was also an opportunity to allow for a very, very easy setup of canonical links: previously, canonical links had to be entered on a URL by URL basis. Now you can use the same simple rules to canonicalize groups of URLs. When is this useful? typically when products or articles can exist in multiple categories for example.
Here is a bit more detail and some screenshots:
Redirect a group of URLs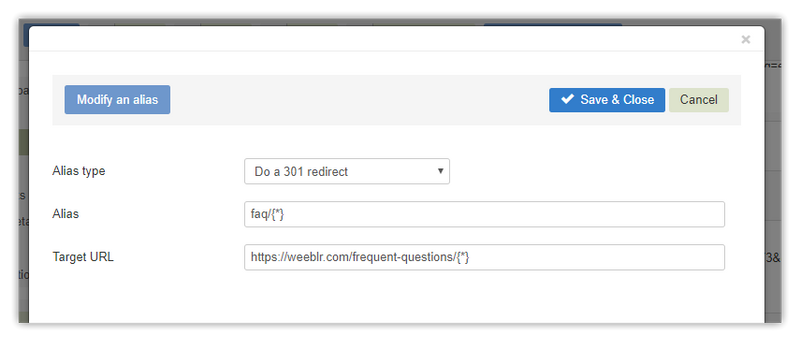 In this example, any link on your site starting with faq will be redirected to the same link but starting with frequent-questions. This simple command allows us to redirect faq/sh404sef, faq/wbamp and any other similar URL to frequent-questions/sh404sef and frequent-questions/wbamp. Just imagine if you had 200 articles in the faq category!
Another thing worth noting: the redirect target can now also be on another site. So maybe if you had a separate Joomla install on https://blog.example.com, then you can redirect all your content to https://www.example.com/blog. With just one sh404SEF alias!
Canonicalize a group of URLs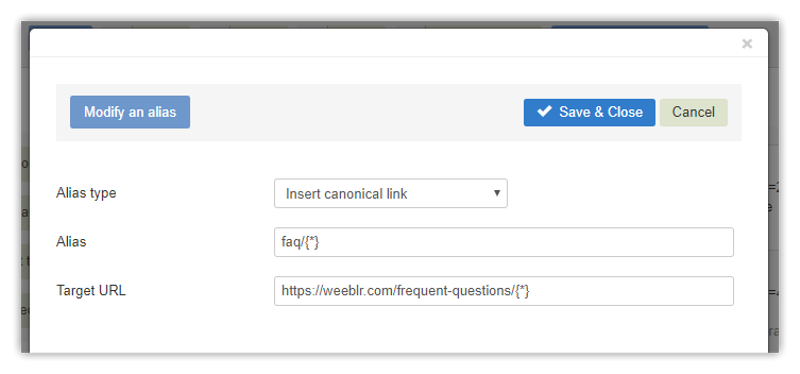 Here we have the exact same configuration, but instead of using a redirect, we selected to insert a canonical link in the original page. How does this work? When using a redirect, anyone trying to load https://weeblr.com/faq/sh404sef will be redirected to https://weeblr.com/frequent-questions/sh404sef. That is the URL in the browser bar will change, and the new page will be loaded.
But when using a canonical link, both https://weeblr.com/faq/sh404sef and https://weeblr.com/frequent-questions/sh404sef can still be accessed normally. An invisible tag is now inserted inside https://weeblr.com/faq/sh404sef to tell search engines that this page is valid, but they should disregard it, and instead use https://weeblr.com/frequent-questions/sh404sef in their index and search results. This lets you duplicate content throughout your site for user convenience, while still maintaining the best SEO site structure.
Create a short link to a YouTube video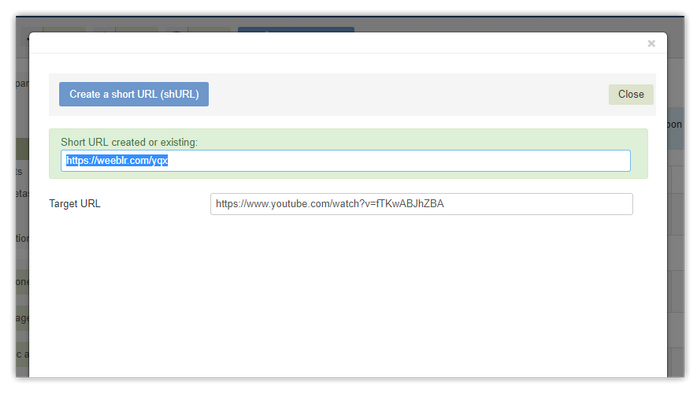 Finally, another long-requested improvement to our popular short URL feature: until now, you could only shorten URLs that belonged to your own site, the site where sh404SEF was running. We have now lifted this, and you can create a short URL for any URL. In the example above, visiting https://weeblr.com/yqx will take you to one of our YouTube videos.
Why use bit.ly or goo.gl any more? Sharing links on Twitter or elsewhere is easier and nicer: visitors tend to trust those URLs more because they are on your own domain. They are also always shorter because contrary to goo.gl or bit.ly, you do not have to manage tens of billions of URLs! Finally, you'll also get simple statistics on click numbers and visitors.
Hope you like these, we have more in stock for the coming months!
Cheers
Yannick