Get free subscription with our referral program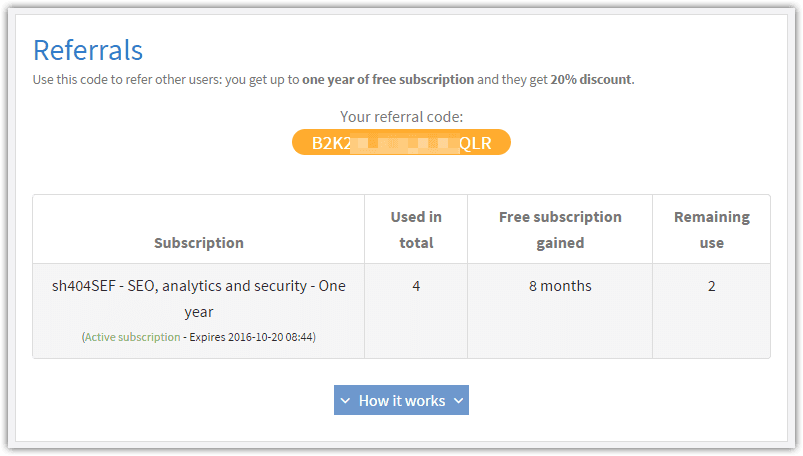 Hi all,
A few weeks back, we silently launched an initiative to help you get the highest value out of our products range: our referral program. In a few words: you get free months on your sh404SEF or Josetta subscriptions, while your friends or clients get discounts on their own.
How does it work?
You give your clients or friends your personal referral code
They can purchase the same subscription you have with a 20% discount
We add 2 months free to your subscription
Your code can be found on your dashboard. It can directly be used like any coupon during the check out process here at Weeblr. The code can be used up to 6 times per subscription. When you renew though, the counter is reset and you can again refer people to us.
What's the point?
Many times we come across Joomla! sites with sh404SEF versions that are totally outdated. We haven't had a security issue in years, but this can happen any time (have you updated to Joomla 3.4.5 yet? we hope so).
This situation often occurs because a site owner has commissioned a site by an integrator or a developer. The developer builds the site using multiple extensions, but for various reasons the site owner fails to get support and updates for the extensions used on their site - or for Joomla itself for that matter.
With our referral program, we hope to make it just a bit easier for everyone to accept the importance of updating and maintaining web sites, just like other assets of companies or individuals.
Cheers
Yannick